Regular price
$39.95 USD
Sale price
$19.95 USD
Unit price
per
Sale
Sold out
Flags, Symbols, & Currencies of Fiji
The current Fijian flag was officially adopted on October 10, 1970. Being a British Colony for over nine decades, the flag of Fiji's design is based on the Union Jack (flag of Britain). Although the flag has slightly been modified, it remains the same as the colonial period flag. Tessa Mackenzie designed the flag.
The flag of Fiji is a triangular flag with a light blue background and features two main components, namely the British Union Jack on the upper hoist-side and a shield on the fly side. The light blue background represents the Pacific Ocean, which has a great influence on islanders' lives. The Union Jack symbolizes Fiji's link to Britain and the kingdom's influence on the island as its colony for 96 years. The white shield is derived from Fiji's Coat of Arms and comprises a St. George's Cross and a red upper part with a golden lion holding cacao pods between its claws. Coconut, banana, and sugarcane in the shield depict the country's rich agricultural activities, while the dove in the fourth quarter represents peace. The national flag of Fiji has a height to length proportion of 1:2. A plan to change the flag of Fiji announced in 2013 by the prime minister was abandoned in 2016.
History of the Fijian Flag
Fiji has a complex pre-colonial history because of the mix of influence by the Melanesians, Polynesians, and Micronesians. However, the history of the current flag is not as complex as the islands' history. It resembles the colonial ensign used in the pre-independence. However, the colonial flag had a dark blue background instead of the current light blue background. Also, it displayed the country's full Coat of Arms instead of the white shield.  This flag ceased to be used when Fiji gained independence in 1970.
Before Fiji became a British colony in 1874, the country's national flag featured white and blue equal vertical bands with a red shield at the center depicting a white dove with green a green leaf on its beak. At the top of the shield was a crown, symbolizing that Fiji was a kingdom. This flag was used until 1874 when Fiji became a British colony.
Historical Flags of Fiji
Flag of the Kingdom of Fiji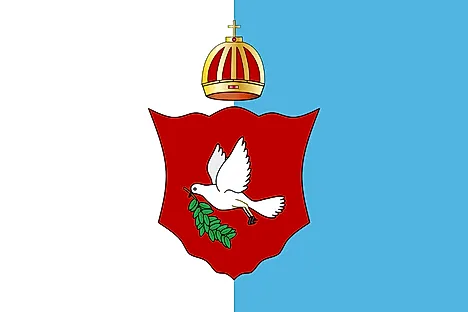 Colonial Flag of Fiji, 1877 to 1883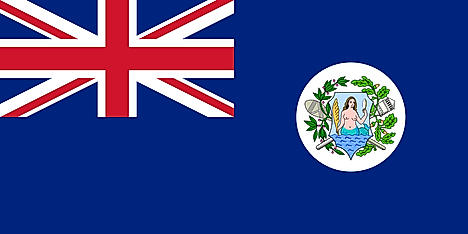 Colonial Flag of Fiji, 1883 to 1908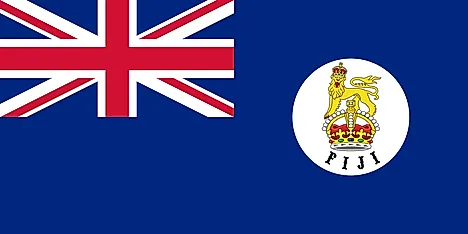 Colonial Flag of Fiji, 1908 to 1924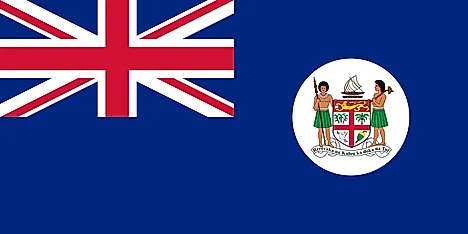 Colonial Flag of Fiji, 1924 to 1970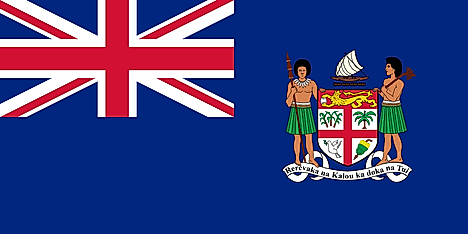 Symbols of Fiji
National Coat of Arms of Fiji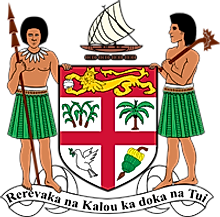 Some Fijians have called for a restoration of the country's full coat of arms to the national flag, considering one of the country's important symbols. The Royal Warran adopted the Fijian Coat of Arms in 1908 and the country has retained the symbol to date. However, the symbol's design was meant to be British and did not incorporate any of Fiji's symbols. Nonetheless, Fiji retained the arms after independence in 1970 partly because it is linked to Fiji's last king, Seru Cakobau, who surrendered the country's control to the British.
The national coat of arms has several features with regional, cultural, and political meanings. It consists of the white shield, featuring on the national flag, a canoe, two warriors, and the nation's motto: Rerevaka na kalou ka doka na tui (Fear God and honor the Queen) at the bottom. The white shield is divided into four quarters by St. George's Cross. A golden lion features on top of the cross and represents the UK. The top quarters feature sugarcane and palm tree while the bottom right quarter features bananas. The three crops represent Fiji's agricultural activities. The dove in the left bottom quarter symbolizes peace. According to a legend, the warriors on each side of the shield are twins, with the older one holding a spear and the younger one holding a totokia club.
National Anthem
Anthem Title: Meda Dau Doka (God Bless Fiji)
Music composer: Charles Austine Miles
Lyricist: Michael Francis Alexander
Date of Adoption: October 10, 1970
Meda Dau Doka was adopted in 1970 when Fiji gained her independence. However, the melody was borrowed from a 1911 hymn titled Dwelling in Beulah Land by Charles Austin Miles. The country's Christian background played a major influence in the adoption of the national anthem. Michael F Alexander composed the anthem's lyrics. In 2008, the government proposed that the national anthem be in three main languages, namely English, Hindi, and Fijian. Currently, Fijian and English lyrics are not each other's translations and are almost entirely different.
Meda Dau Doka (Fijian)
Meda dau doka ka vinakata na vanua
E ra sa dau tiko kina na savasava
Rawa tu na gauna ni sautu na veilomani
Me sa Biu na i tovo tawa yaga
CHORUS:
Me bula ga ko Viti
Ka me toro ga ki liu
Me ra turaga vinaka ko ira na i liuliu
Me ra liutaki na tamata
E na veika vinaka
Me oti kina na i tovo ca
Me da dau doka ka vinakata na vanua
E ra sa dau tiko kina na savasava
Rawa tu na gauna ni sautu na veilomani
Me sa biu na i tovo tawa yaga
Bale ga vei kemuni na cauravou e Viti
Ni yavala me savasava na vanua
Ni kakua ni vosota na dukadukali
Ka me sa qai biuta vakadua
God Bless Fiji
Let us show our pride and honour our nation
Where righteous people reside
Where prosperity and fellowship may persevere
Abandon deeds that are immoral
CHORUS:
Let Fiji live on
And progress onwards
May our leaders be honourable men
Let them lead our people
To great things
And bring an end to all things immoral
Let us show pride and honour our nation
Where righteous people reside
Where prosperity and fellowship may persevere
Abandon deeds that are immoral
The burden of change lie on your shoulders youth of Fiji
Be the strength to cleanse our nation
Be wary and not harbour malice
For we must abandon such sentiments forever
The Currency of Fiji is the Fijian dollar
The official currency of Fiji is the Fijian dollar (FJD). It was the country's official currency from 1867 to 1873 and has been the official currency since January 15, 1969. It replaced the Fijian pound at the rate of two dollars for one pound. The symbol of the currency is the dollar sign ($), with FJ$ used to distinguish it from the US dollar (US$) and other dollar currencies. Despite becoming a republic in 1987, banknotes and coins featured Queen Elizabeth II's image until 2013. The current coins and notes feature plants and animals pictures.
Coins
Fiji introduced the Fijian dollar coins in 1969 in five different denominations, namely 1c, 2c, 5c, 10c, and 20c. In 1975, it introduced the 50-cent coin. All these coins resembled the Australian coins in terms of composition and size. However, new coin compositions were introduced in 1990, with 1c and 2c made from copper-plated zinc and the rest of the coins made from nickel-plated steel. In 2013, Fiji replaced the Queen's portrait on the coins with pictures of plants and animals. $1 and $2 coins are also in circulation in Fiji.
Banknotes
The first dollar notes introduced in Fiji in 1969 were in five denominations, namely 20, 10, 2, 1, and 50 cents. The $5 was introduced a year later. In 1974, the Central Monetary Authority took over the responsibility of issuing paper money. Later, the 50c and $1 were replaced by coins, and $50 and $100 were introduced. In 1986, the Reserve Bank of Fiji took over the responsibility of issuing notes. Today, the commonly used notes are $100, $50, $20, $10, and $5.
Commemorative Banknotes
The Reserve Bank of Fiji has launched several commemorative notes to celebrate special events and milestones. The first commemorative notes were the $2 and $2000, launched in the year 2000, to celebrate the dawn of a new millennium. In 2017, the reserve bank launched another commemorative note. This time, it was the $7 note to celebrate Fiji's rugby 7s team win at the 2016 Rio de Janeiro Summer Olympics. In October 2020, the central bank launched a commemorative $50 note to celebrate the country's 50th independence anniversary.
Fijian dollar Banknotes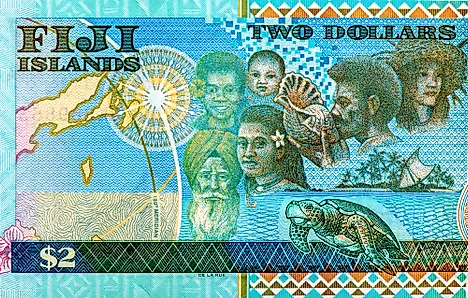 Fijian dollar Coins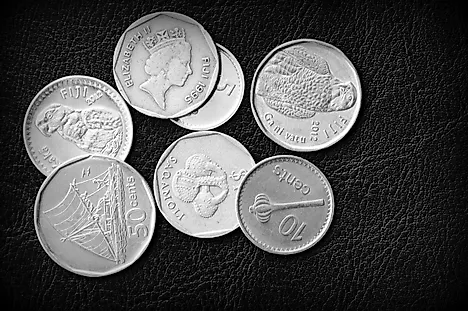 Historical Currencies of Fiji
Although Fiji has used the Fijian dollar on two occasions (between 1867 and 1873, and from 1969 onwards), other currencies have been used before and between these periods. Between 1873 and 1969, Fiji used the Fijian pound as the official currency mainly because it was a British colony. The pound was subdivided into 20 shillings of 12 pence each. Coins were minted in the denomination of ½d, 1d, 3d, 6d, 1 shilling, 1 florin while banknotes were in the denomination of 5/-, 10/-, £1, £5, £10, and £20.  
Delivery
 
We take approximately 3-5 working days to create your order, and 3-5 working days days to deliver it.
View full details
Posters are more popular than ever!

What makes our posters so popular is not only their excellent price-performance ratio. Many people still remember posters from their childhood, but a lot has happened since then. Instead of printing on thin paper, which had to be carefully separated from the middle of the magazine, we now print in rich colours on high-quality premium poster paper. A tangible and visible difference!

The special thing about our wall poster prints is that they can be attached to the wall with or without a frame. Convince yourself of our posters and benefit from our special advantages when purchasing:

- High quality

- Right to return within 100 days

- Affordable shipping

Need inspiration? Buy the right poster online

If you are still unsure which motif is the right one for you, you can narrow down your image selection by using our subject search. Our motivation pictures are ideal for printing as posters. Cheeky sayings and messages that come from the heart are among our most popular poster designs and not only embellish the living rooms, but also raise your mood at the same time.

With city photos and travel motifs you can go on holiday or reminisce about your last trip. Fantasy fans will also get their money's worth with our cult comic posters because they no longer just adorn the walls of the children's room. In our poster shop you can buy premium-quality wall posters online according to your wishes!

Still can't find what you're looking for?

How about trying one of our custom posters? All you need to do is submit the image you would like to use, select your sizing and add a frame, and you're good to go. These are really popular for people looking to add a unique touch to their home or office. They also make a fantastic gift for people of all ages!